Take a look through all the important technical SEO news and updates from April 2019, including from the world of web development and Google.
Development News
Amp to support custom JavaScript
The Amp Project announced on 11 April that it would soon support custom JavaScript within AMP documents through amp-script; a component wrapper for worker-dom.
The announcement highlighted how the new script would work in a teaser video, which was released ahead of Amp Conf 2019, which took place across two days in April.
Kristofer Baxter revealed more details about the script during his talk at the conference, which you can view below:
Action Point
The new script is useful for developers looking to adopt AMP on both web applications and websites that utilise custom JavaScript. Learn more about the new script with AMP's documentation guide.
Google Introduces Signed Exchanges for AMPs
Writing in the Webmaster Central Blog, Google revealed on 16 April that it was rolling out support in Google Search's AMP web results to link to signed exchanges.
Enabled by the IETF web packaging specification, signed exchanges enable the publisher's domain to be displayed when content is instantly loaded via Google Search.
Google states that the new function is only available in Google Chrome for the moment, but that expansion will likely feature in the upcoming version of Microsoft Edge.
Action Point
To enable signed exchanges, follow the necessary steps highlighted in the Serve AMP using Signed Exchanges guide.

If your site uses a CDN provider, it might also be worth asking whether the company provides AMP signed exchanges.
Google News
Android App Filters Added to Performance Report
Tweeting on 8 April, Google Webmasters announced that those with an Android app associated with their website can now get performance data in Google Search Console.
Using the filter, webmasters can see:
Clicks
Impressions
CTR
Positioning
Action Point
For those that have a site with an Android App, open the Performance report in the new Google Search Console and click on the search appearance filter. From there you should be presented with an option for "Android app".

You will then be able to view specific metrics on how well your app is performing in Google Search.
Discover Report Added to Google Search Console
On 10 April, Google revealed via its Webmasters Blog that the Discover report was being added to Google Search Console for sites that have "accumulated meaningful visibility in Discover".
The new report allows publishers to view and analyse a variety of elements, including:
How often a site is showing in Discover, and what traffic is originating from it.
How content is performing compared to traditional search results.
What types of content is performing well in the feed.
Since its launch in 2017, Discover has boasted a userbase of 800 million people per month and can be viewed from the Google.com mobile homepage, or by swiping right from the home screen on Google Pixel phones.
Action Point
Understanding how your traffic is coming to your site is essential. If your website regularly features in Discover, the new report will allow you to find out what tactics can be employed to better your positioning in its feed.

Read Google's guide on how to optimise your content for Discover
Google My Business Surveys Issued by Google
Sean Butcher reported on 25 April that Google was sending out surveys to local businesses, inquiring about whether they would consider paying for some features within Google My Business.
The survey also enquired about what pricing options businesses would prefer, which included a monthly subscription package, ranging from $20 to $75.
It also asked businesses which future features could be considered useful, including ad-less profiles, the addition of a "book" button, and the ability to add a "featured review" to a profile.
Action Point
Google My Business is an important service for local businesses, and if Google decides to monetise it, this will inevitably put additional strains on marketing budgets.

If you want to make an informed decision on whether this would be worth it for your business, we suggest adding UTM tracking to your GMB links so that you can see how much traffic you are receiving from it.
Customer Testimonials Highlighted in Google posts
Google My Business announced on 18 April that local businesses can now showcase positive reviews in some countries.
Although it was not mentioned which countries had received the new functionality, Google said that posts were automatically suggested based on recently submitted four or five-star reviews.
Businesses will also have testimonials suggested to them upon sign-in to My Google Business, which can then be reviewed and edited before publication.
Action Point
The ability to highlight the testimonials for your business could be a powerful draw for conversions. Ensure to check through your reviews regularly so that you can highlight the best aspects of your business.
Short Names and URLs Added to Google My Business Listings
Writing on his blog on 16 April, Mike Blumenthal, a local guide for Google, reported that Google My Business is rolling out short names and URLs to business listings.
The new features are designed to make listings more accessible to customers, and so that businesses can showcase listings on calling cards, posters, brochures, and other marketing material.
The format for the short URLs is as follows:
g.page/[yourbusinessname]
A minimum of five characters is required for a business name, and when users navigate to the short URL, they will be taken to the company listing in Google Maps.
Google states that the short name should "represent your business name, brand, location or other description."
Action Point
Get your short name by signing into Google My Business and selecting the appropriate location. Open the side menu before clicking the "info" tab and select "add profile short name".

After submitting your short name, it should read "pending". Once ready, the new name and short URL will show on your business profile.
Custom Search Mobile Layout Updated
On 22 April Google announced that it had updated the layout for mobile users using Custom Search.
The changes include more distinct refinements, an increased size for thumbnails, and simpler pagination.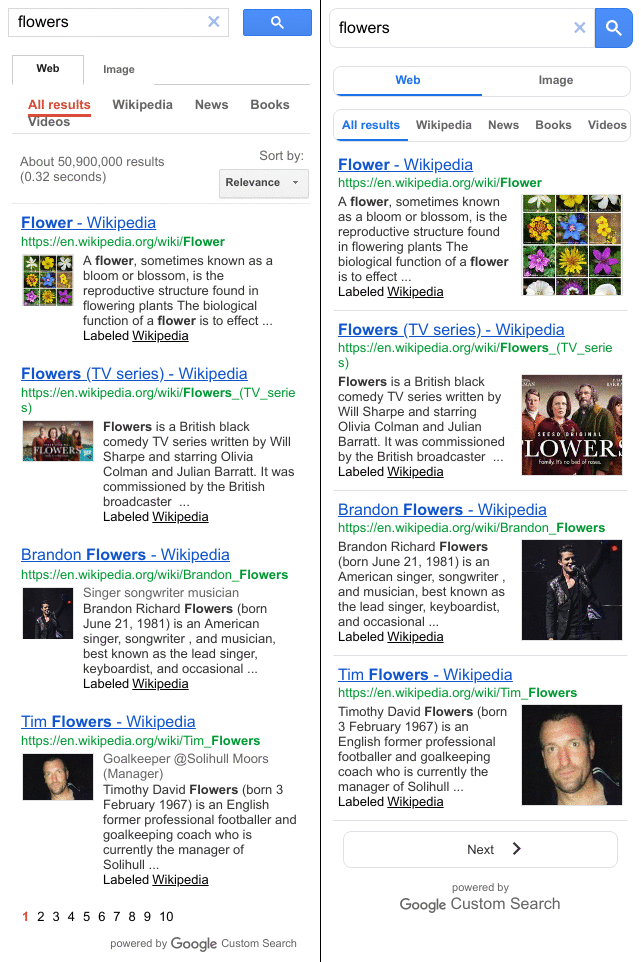 Google states that refinements have also been made for Desktop Search:

Action Point
User experience is critical for conversions, and an update for Custom Search on mobile devices is an excellent time to review you're happy with the way you appear in the SERPs – how do your competitors compare, for example?
Rich Answers Coming to Google Assistant on Android Devices
Writing in The Keyword, Google has announced that it is bringing a fresh batch of changes to Google Assistant to provide "better visual responses and more complete information at a glance."
The update includes a new interface for categories like events, and users will get access to tools such as the tip calculator.
Google also states that the assistant might also provide users with full search results as well as existing ads that are live within Search.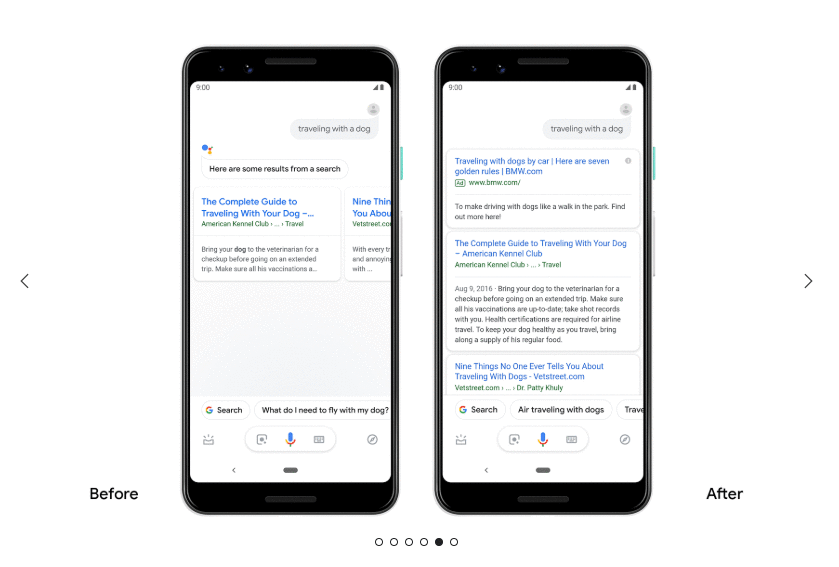 Action Point
Google Assistant is now on over a billion devices across the world, and its popularity is only set to increase. Learn how your site can make use of the assistant through optimisation best practices and markup such as Speakable (US only).
More Images Showing in Google Web Results
It has been reported that more images are appearing in Google Search web results.
According to SEOClarity, images appearing in the top 10 positions increased from a 24% occurrence to a 34% occurrence.
Search Engine Land reported that data from both Moz and RankRanger showed a similar increase.
Action Point
As reported in our January Roundup, John Mueller stated that Google is looking to change the way that people use Image Search in 2019, and this increase could be the result of that aim.

Remember to optimise images throughout your site, as images appearing in standard search results could result in more traffic. Check out this Google guide on how to properly optimise your images.
Additional Reading
Google resolves indexing issues
After six days of dilemma, Google announced on 11 April that it had fixed a bug that was inadvertently de-indexing pages from search results. If you saw a sudden loss of traffic at the beginning of April, it could well be due to the above issue.
According to Search Engine Land, both Coverage and Enhancement reports were impacted in the Search Engine Console until 29 April.
Only 4% of US Businesses Found to be Voice Search Ready
A study of 73,000 businesses found that only 4% were voice search ready. The study, published by Uberall, found that wedding services, art galleries, and consumer protection organisations were the least likely to have optimised for Voice Search.
Instagram Account Launched for Google Developers
Towards the end of April, Google Developers launched its own Instagram account to "shine a spotlight on communities around the world and make new friends at events like Google I/O, The Android Dev Summit, Flutter Live, and more.