Take a look through all the latest updates and tips from this month's Technical SEO Roundup, which features news from both Google and Bing.
Google
Products added to Enhancements on Reporting section of Google Search Console
A new report named "Products" has been added to Google Search Console to help webmasters analyse how well product markup is performing within search results.
The report allows webmasters to view errors, including any valid markup that currently has warnings.
Once issues are fixed, webmasters can then check to see if they are resolved through a re-crawl of the affected pages.
Alongside the Products report, two other features were added:
Merchant Center: Product data feeds uploaded here are now eligible for display in Search and Google Images, although this is US-only for now.
Manufacturer Center: Updated to support product description, variants, and rich content, such as high-quality images and videos that can be shown on a product's knowledge panel.
The new features will offer great insight for eCommerce stores that have implemented markup on their products.
Action Point
If your site includes eCommerce functionality and you haven't implemented product markup yet, you can find out how to do so, here. Otherwise, check the Enhancements section in Google Search Console to review your markup for issues.
New Alerts for Click-Through Drops Activated by Search Console
On 20 February Vance Moore reported on Twitter that Google Search Console was sending out new alerts for substantial click-through drops.
The new alerts are sent out when Search Console detects far fewer clicks to your website from search queries when compared to the previous week.
As noted in Vance's tweet, the reports read: "Search Console analyzed your performance report and found that your site had a substantial drop in clicks last week compared to the previous weeks. This drop is likely due to a drop in clicks for the query…"
Action Point
If you receive such an alert, it is essential to understand why, as it could mean that one or several pages ranking lower than before or an issue with how your listing appears in the search engine results – check for title, description and other issues. If your site reported on a trending news topic, or was the subject of a news topic, a change in interest could also cause the alert.
Domain-Wide Data in Search Console Announced
On 27 February Google announced domain properties within Search Console as a way of verifying and viewing data from Google Search for an entire domain: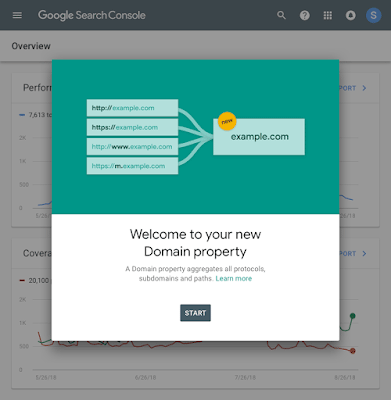 Google recommends verifying all versions of a website, but this can still lead to a site's performance feeling fractured when viewed in Search Console.
Domain Properties will display data from all URLs under the domain name and all protocols, subdomains, and paths.
Action Point
For those properties verified via the DNS method, Search Console will automatically create new domain properties throughout March. To add a new domain property, go to the property selector and add a new domain property using DNS verification.
Search Console to Consolidate Traffic on Canonical URLs
On 6 February it was announced on the Webmaster Central Blog that in order to help unify data, Search Console would soon assign search metrics to the canonical URL selected by Google.
The search engine notes that there are three advantages to this change:
All search metrics for a single page will be unified into a single URL.
Data, including for separate mobile pages or AMPs will be unified to a single property.
AMP and Mobile-Friendly reports will have better usability.
The transition is planned for 10 April, and Google will pre-populate unified data from January 2018. Webmasters will also be able to view old and new versions "for a few weeks" during the transition so that they can familiarise themselves with the changes.
For those worried about how this will affect their data, on an individual URL level, traffic will move from non-canonical (duplicate) URLs to the canonical URL.
On a property level, data from an alternative property will shift to your "canonical property".
It is worth noting that AMP property traffic will drop to zero in most cases, although alternative property traffic will not, as canonicalization is at the page level (and not the property level).
Webmasters will still be able to filter by device, search appearance, country, and other aspects.
Action Point
Consider whether new users need to be added to your canonical property or whether existing users need access to non-canonical properties. If you have any custom traffic reports, you might need to adapt them ahead of the change.

You can also download your data using the Performance report's Export Data option if you want to save your traffic data calculations using the current system.
Product Card Buttons Appearing in Desktop Search Results
Buttons on card-style product listings have now been added to the right of desktop search results.
When users click on one of the three buttons, whether for more details, reviews, or stores, the information is overlaid on top of the search results.
You can see what a card looks like in the screenshot below: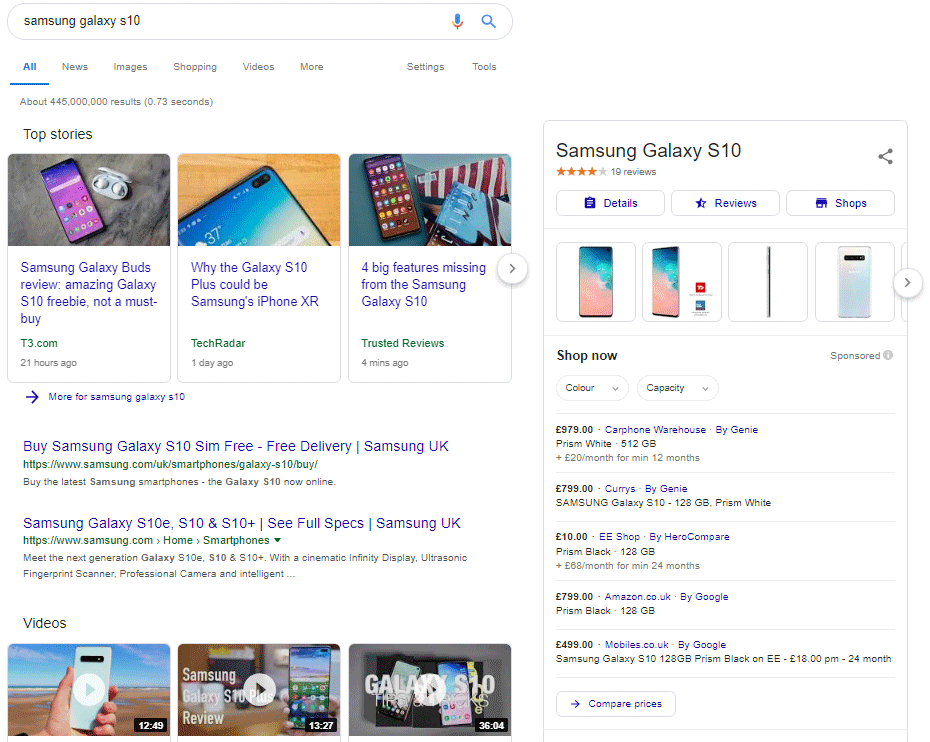 Action Point
Appearing in a product card within search results can be very lucrative for businesses. Ensure that you have accurate Product markup enabled on your site. This just one of the many new ways that users can search for and find out more information about products.
Google My Business Spam Report Form Launched
In the last week of February Google announced that it was launching a spam report form for Google My Business listings.
The form can be used if a user comes across misleading information or fraudulent activity on Google Maps related to the name, number, or URL of a business.
Complaints themselves will be reviewed against Google's guidelines for representing businesses on Google Maps.
Action Point
Ensure that all your information is correct in your My Google Business listing to avoid being reported through the form. You can view it here.
Businesses given the option to reply to reviews on Google Maps through Desktop
Early in February, it was announced that business would soon be able to respond to reviews found on Google Maps through Desktop devices.
Writing in Google My Business News & Updates, a community manager announced that businesses could reply directly to reviews without having to download the Google My Business app or open its homepage.
Action Point
The new feature can save businesses a lot of time, especially when they work predominantly in offices using desktop computers. You can learn more about replying to reviews in Google My Business Help.
"Get in Line" CTA added to Local Panels
On 12 February Sergey Alakov published an article, noting that some restaurants in the New York area now display a "Get in Line" call to action to help users get on a restaurant's waiting list.
Although seemingly not yet released in the UK, the feature is likely to be rolled out internationally, and Sergey notes that the CTA is located where the "Reserve a Table" option is usually displayed.
Action Point
The feature could be very useful for restaurants where the reservation list may be long. If you're the owner of a restaurant outside of the US, keep an eye out for the full rollout.
Debate Resurfaces Over Featured Snippet "Stolen" Traffic
Towards the end of February Google responded to complaints that a form of Featured Snippets was offering content to users without showing the source.
Instead of being presented with the sources, users must click to expand a snippet before scrolling through to identify the origin.
The debate is a long standing one between publishers and Google, and it was rekindled over the below snippet format highlighted by Cyrus Shepard:
As noted by Cyrus, Google is taking the copy of a third-party publisher to populate its own results page without providing on-page links to the original source.
The tweet came to the attention of Danny Sullivan, who defended the snippets.
Since I got asked about this, a couple of things.

Most important, the future of Google Search is to continue supporting the ecosystem. We don't thrive & users don't thrive unless the ecosystem thrives.

I wrote about this last year….https://t.co/S7Es57l7fW

And…. pic.twitter.com/U5T95FYPKM— Danny Sullivan (@dannysullivan) February 23, 2019
Sullivan noted that when Featured Snippets were originally launched, he was personally concerned that they would harm publishers, but that he was wrong. Continuing, he said that he doesn't expect this opinion to change further as Google work to expand the range of snippets.
Despite this, he did note that he would "pass along the concern that it might be better if these showed a link for the first site being quoted or perhaps the carousel was opened for the first listing."
Action Point
Some in the SEO community continue to claim that Google's goal is to become a destination for information, rather than a gateway to it. The opinions expressed by Cyrus and others on this particular feature does mirror that argument.

For the moment, however, it's still the case that Featured Snippets in their current guise are capable of driving large amounts of traffic to publisher sites.
Bing
Bing Urges Publishers to use its Submit URL Tool
In an Interview with Search Engine Land, Christi Olsen, Bing's head of search evangelism stated that publishers should be regularly submitting content to the search engine using the Submit URL Tool.
When used on a verified domain, the tool sends a "strong signal" to Bing, which should improve indexing time for the page or pages in question.
Bing stated publicly that their goal is to reduce the resources required to crawl the web, and that manual submission methods such as this will assist with faster crawling and indexing in their search engine.
Pages can be submitted manually in the Bing Webmaster Tools interface, but hope that in the future this may be something handled by a site's CMS hooking up with the Bing API. Yoast SEO is already offering this functionality for WordPress sites.
Action Points
Ensure to make Bing aware of new content so that it can be indexed quickly. Read more about the interview with Christi, here.
Additional Reading
Not being on HTTPS found to affect brand trustworthiness
A recent survey has found that businesses not on HTTPS are less trusted by the public.
Hotels now able to add check-in and check-out times to Google My Business
A community manager for Google My Business announced early in February that hotels can now add additional information to their listings.
Google Developer to start YouTube series on JavaScript and SEO
Google has stated that JavaScript is to become an essential area of SEO in the future, and on 27 February, Google Developer, Martin Splitt, announced that he was going to start a video series covering the subject. You can watch his welcome video on the official Google Webmasters YouTube channel.
Guide to PowerBI for Marketers
Seer Interactive on how to use business analysis suite PowerBI to find opportunities, transform and visualise data and gain a competitive edge.
Optimising Query Syntax for SEO
AJ Kohn's self-described "obsession" with query syntax has lead to this excellent deep dive into why he believes SEOs need to keep an understanding of query syntax close to the centre of their search strategies.
Is Dynamic Rendering a Silver Bullet for SEO?
This deck by Bartosz Goralewicz (taken from a presentation at SMX WEST) is a deep dive into dynamic rendering from an SEO perspective and contains multiple case studies.