Development
Chrome to Warn Users of Slow Loading Pages
On 11 November Google proposed a plan to warn users of slow-loading sites. Making the announcement on the Chromium Blog, the idea involves a contextual menu "within links" to tell users that a site is slow.
It is assumed that these links are the listings within results pages. According to Google, the development will reward faster sites: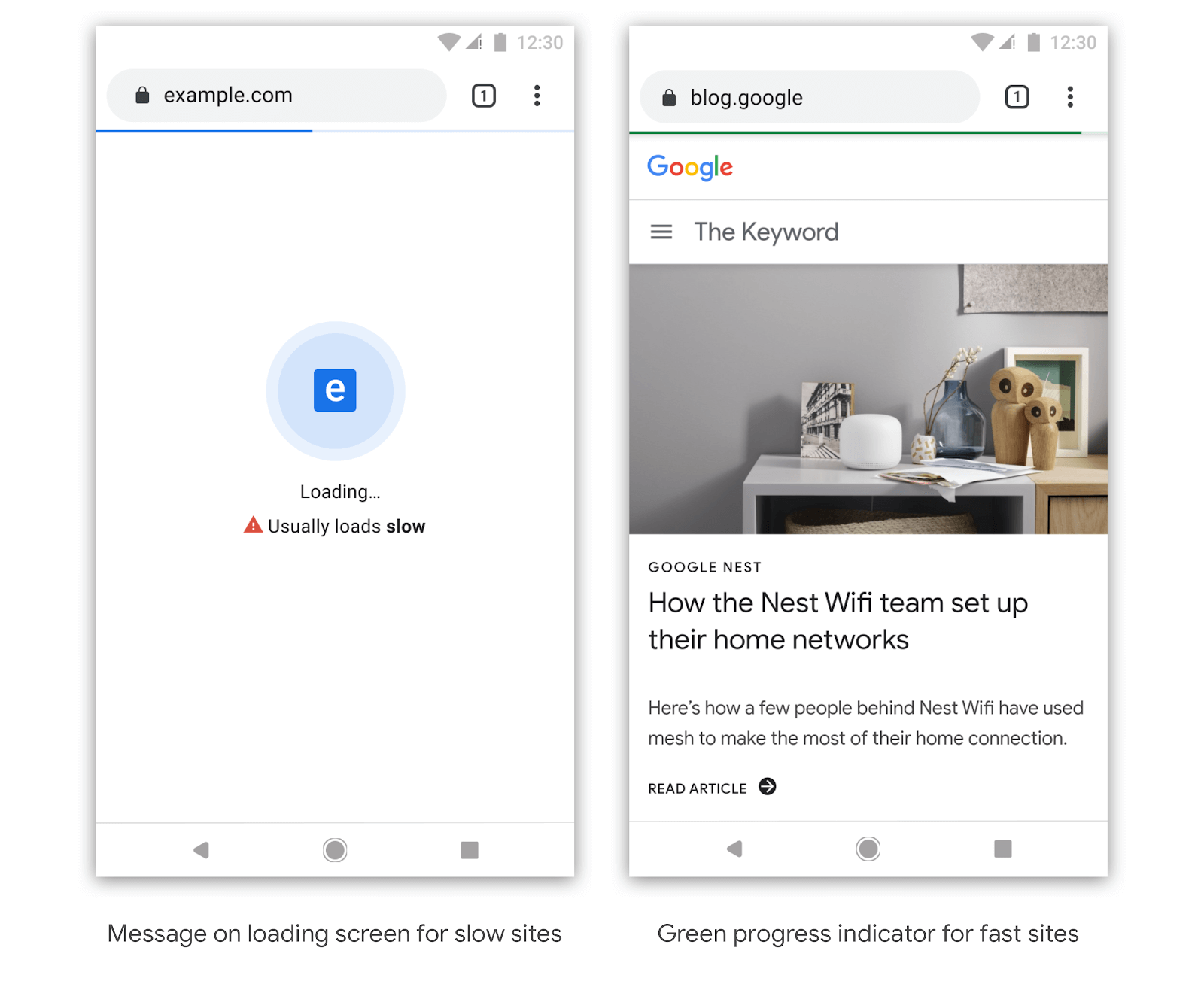 Google said: "Our early explorations will look at several Chrome surfaces, including the loading screen (splash screen), loading progress bar and context-menu for links. The latter could enable insight into typical site speeds, so you're aware before you navigate."
Action
Ensure to review your page load speeds. The new Search Console Speed Report will evaluate individual URLs and provide you with fixes for slow performing pages.

Keep an eye out for updates as Google plans to use badges for other metrics in the future, but it hasn't started what they are as of yet.
Google
Product Results Filters Added to Performance Report
On 20 November Google announced that it had added new product filters to the Performance report in Search Console.
The new filters allow for a more in-depth analysis of how individual products perform within SERPs, providing both click and impression data from rich results.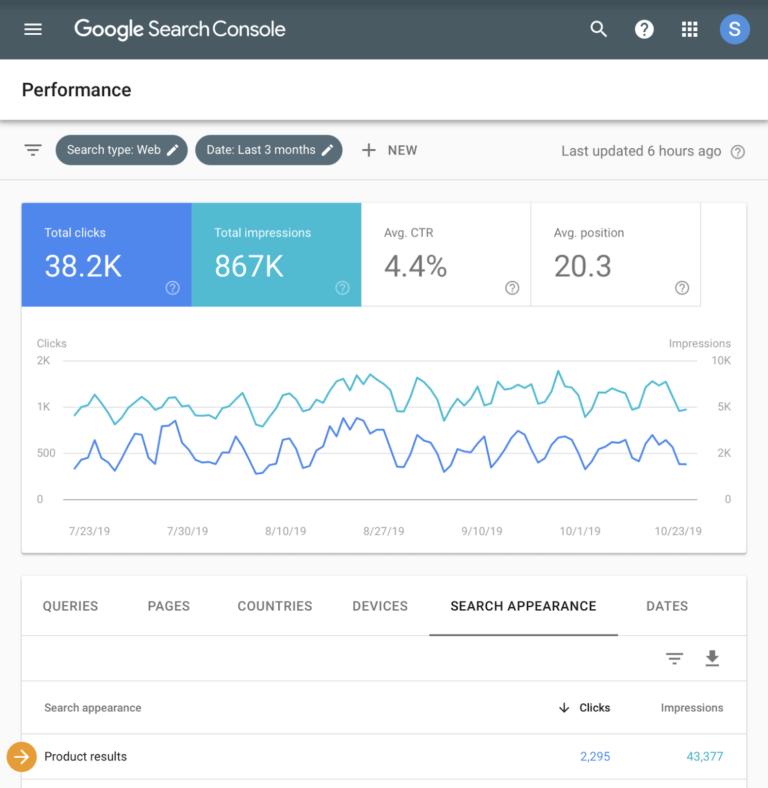 Action
The data is accessible in the Performance report by clicking "search appearance" and then "product results".

You can then view and analyse clicks and impressions, which can be further broken down into devices, geographic locations, and queries.
Speed Report Added to Search Console
On 4 November it was announced by Google that the long-awaited Speed report had been added to Search Console.
Located under "Enhancements", the speed reports help webmasters locate URLs that contain speed issues. The reports also help diagnose and address specific problems that slow page loading times.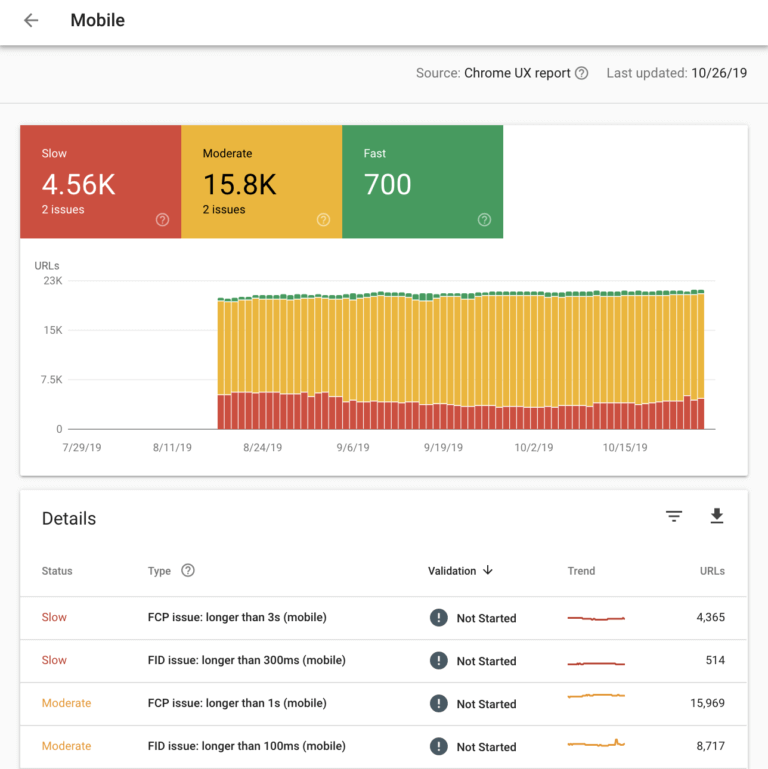 Google states that once an issue is fixed or an optimisation deployed, the report is intended to help track whether users experienced a performance improvement when browsing the fixed version of your website.
Action
Site speed is an integral part of search performance, and the new Speed report will allow you to monitor and review site speeds in a granular fashion.

It also means that webmasters don't need to go into a separate page speed tool or dashboard to view information.
Google Allows Businesses to Add Custom Lists to Listings
A new update is now allowing US service-based organisations to add custom lists of services to their Google My Business listing.
For example, if a mechanic wanted to add their services to their Google My Business listing, they could add options such as "MOT testing" or "brake pad replacements".
Google states that adding the services should increase relevant leads.
Action
If you want to add services to your listing, once signed in open the location you wish to modify, click "info" within the menu, and click "edit" within the "Services" section.
Free Phone Support Removed From Google My Business
On 11 November Google announced that it was removing free phone support from Google My Business.
Since the launch of business listings, small organisations in the US have received free phone support from Google, should they have difficulty managing their Google My Business listing.
In an answer published in Google My Business Help, the search engine said: "We've removed toll free customer support numbers from the Google My Business homepage."
Continuing, Google said: "If you call one of the existing numbers, you'll be directed to the Google My Business Help Center for a more personalized and efficient help experience."
Action
If you are based in the US and require help, you can request a call-back using this help form. The response time, however, is expected to be much slower than before.
New Information Provided for new Video Structured Data Features
Around mid-November Google updated its help documents for video structured data, as tweeted by Lizzie Harvey.
Action
Earlier in the year Google added Video reports to the Search Console, as reported in our October Roundup. If your site makes use of YouTube videos, you do not need to use markup, but you can place timestamp information in the YouTube video description.
Bing
New link Penalties Announced
On 4 November Bing announced that it is to update its Webmaster Guidelines, which included new link penalties. The penalties involve:
Inorganic Site Structures: This is a site structure that uses internal site-level link signals (with subdomains) or cross-site linking patterns (with external domains), to manipulate search engine rankings.
Domain boundaries: This is the (new) idea that there are boundaries to a domain. It states that Private Blog Networks (PBNs) are a form of spam that abuse website boundaries, such as with WordPress.com subdomains.
Subdomain leasing: Bing now considers subdomain leasing to be a form of spam. It explains that, "the practice equates to buying ranking signals, which is not much different from buying links."
Cross-site linking: Bing states that some sites that are heavily interlinked to the point where they are (in theory) just one site. It says that multiple penalties already exist for different forms of interlinking.
Action
Ensure to read through the post alongside its updated webmaster guidelines and review any areas of your website that are not best practice.

It is worth noting that the Webmaster Guidelines generally follow those offered by Google, so if you are in breach those dictated by Bing, you could also be breaking Google's own best practice guidelines.
Bing Applied BERT in April
After Google's BERT announcement in October, writing on the Microsoft Azure Blog, Bing's platform manager stated on 18 November that the search engine applied the BERT algorithm in April.

As seen in the above image, Bing now has improved natural language processing capabilities, which means it has a greater understanding of user queries.
Jeffrey Zhu, Bing's platform program manager, said: "Unlike previous deep neural network (DNN) architectures that processed words individually in order, transformers understand the context and relationship between each word and all the words around it in a sentence."
He continued: "Starting from April of this year, we used large transformer models to deliver the largest quality improvements to our Bing customers in the past year."
Action
Such developments will help Bing grow its share of the search market as it becomes more useful for users.

Although ultimately, Google is used by a higher percentage of users, webmasters should stay up to date with updates and best practices from other search engines.
Bing Announces Image Search Improvements
On 18 November new improvements were announced to Bing's image search service thanks to an evolved understanding of user queries, images, and webpages.
It has also introduced vector-matching, attribute-matching, and best representative query matching techniques, as seen below: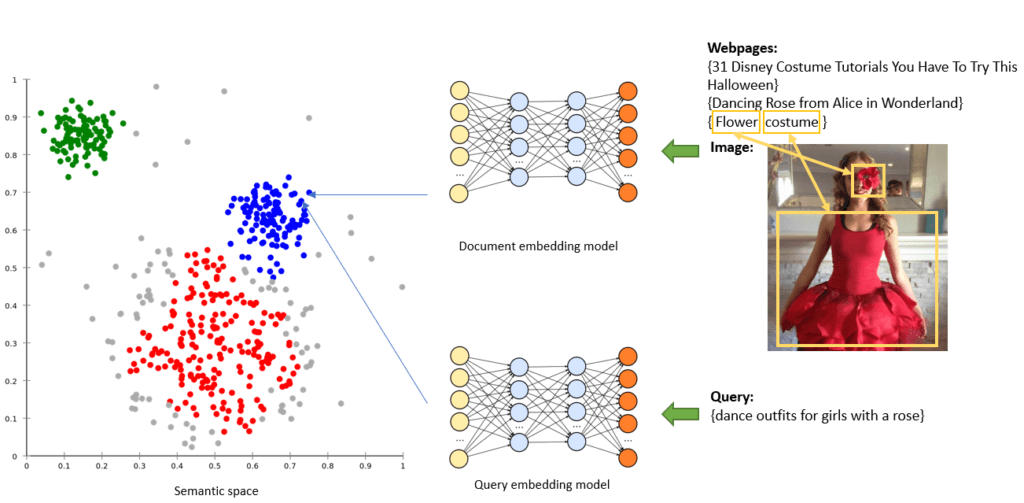 The statement from Bing staff read: "With recent advancements we incorporated BERT/Transformer technology leveraging 1) pre-trained knowledge to better interpret text information … 2) attention mechanism to embed the image and webpage with the awareness of each other, so that the embedded document is a good summarization of the salient areas of the image and the key points on the webpage."
In regards to attribute matching, Bing states that the search engine utilises techniques to extract information from both user queries and sources documents to combine that information for a match:

The search engine states that it has also "enriched" metadata for images with Best Representative Query (BQR) information.
Action
Google has stated that Image Search is to have a significant impact on the future of search, and it is clear that Bing is also improving its image search services.

Read through Bing's blog and review your site's images to ensure that they provide as much information and context to crawlers as possible for better performances within search results.
Additional Reading
Google Publishes November Roundup Search News Video
John Mueller and his video team have unveiled a new monthly video roundup, featuring all the latest Search News. Catch the very first episode on YouTube.
Don't Follow Big Sites Blindly
Writing on Reddit, John Mueller gave his answer to the question, "Should I listen to Google's advice or follow big sites?" He states that smaller sites should never "blindly" follow the larger ones.
Search Engine Land Publishes Five Takeaways From the Google Webmaster Conference
The Google Webmaster Conference took place in early November, and some interesting topics were discussed. Read Search Engine Land's five tips and trends from the conference.