October Roundup
October was a busy month for the search industry, with many updates and feature releases coming from Google. Take a look at essential updates, tests, and tips below.
Google News
Monitoring Competition with Chrome UX Reports
Published towards the end of September, this article didn't quite make it into our last roundup, although we feel that it deserves a special mention here.
If you're not aware, the Chrome UX Report (CrUX), is a data set of user experiences measured by Chrome, and Google releases monthly snapshots of over four million origins.
In his article, Rick Viscomi discusses how you can use CrUX to your advantage simply by using SQL and a host of tools to see how your website stacks up against its closest competitors.
Action Point
Have a read through Rick's article and try follow his step-by-step instructions. If you feel that using SQL in BigQuery is a little advanced, Rick offers a variety of other tools you can use to get the information you need.
Project Strobe
Writing in The Keyword, Google published its first four findings from Project Strobe, the "root-and-branch review of third-party developer access" to account and Android device data.
It reported that:
Google+ has too many challenges to achieve consumer expectations.
Consumers want to be able to control the data that they share with developers.
People will only grant app access to Gmail under certain conditions.
The same goes for granting access to SMS, contacts, and phone permissions to Android Apps.
For each finding, Google is to implement a range of actions, with the most significant being the closure of Google+, which suffered a significant data breach earlier in the year.
Action Point
Read through the actions that Google is to implement for each finding. If you're an app developer, it could be the case that your apps could be affected by Google's changes.
Inline Search Console Query Data
Early in October, Simon Glanville noticed that search console metrics were being placed directly into a SERP when he performed a query. We noted the same for many of the terms on our own search console profile, no matter large or small. Some terms are showing the change over 28 days.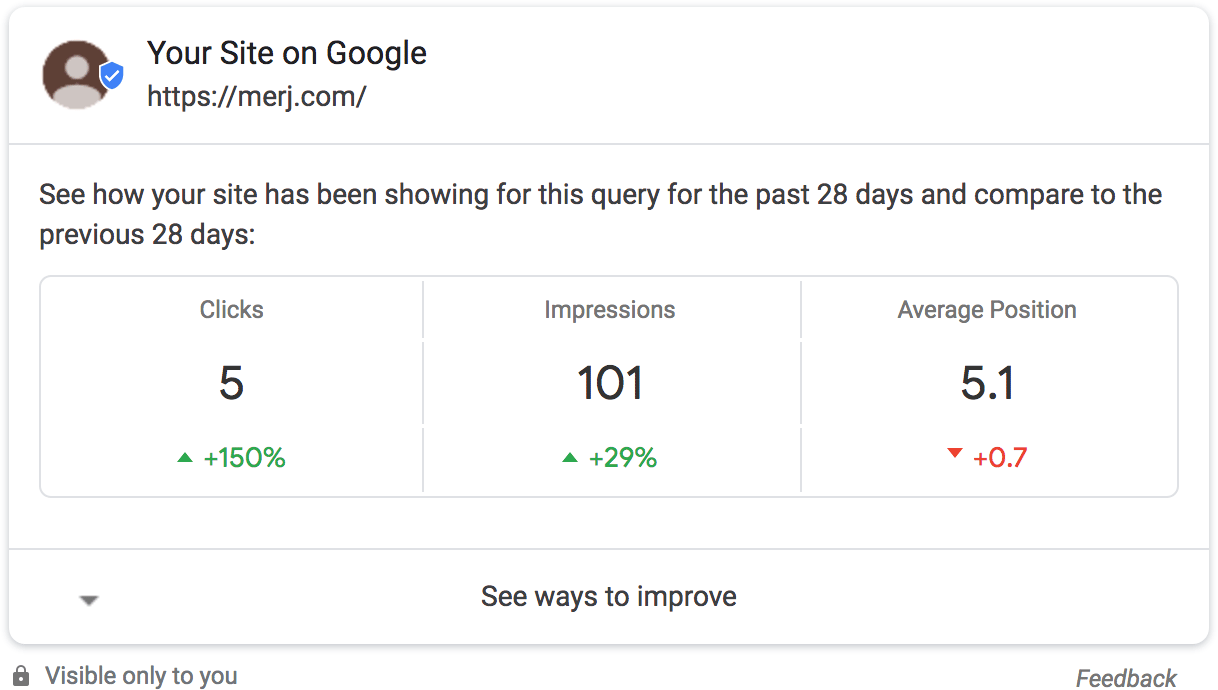 While others over 7 days.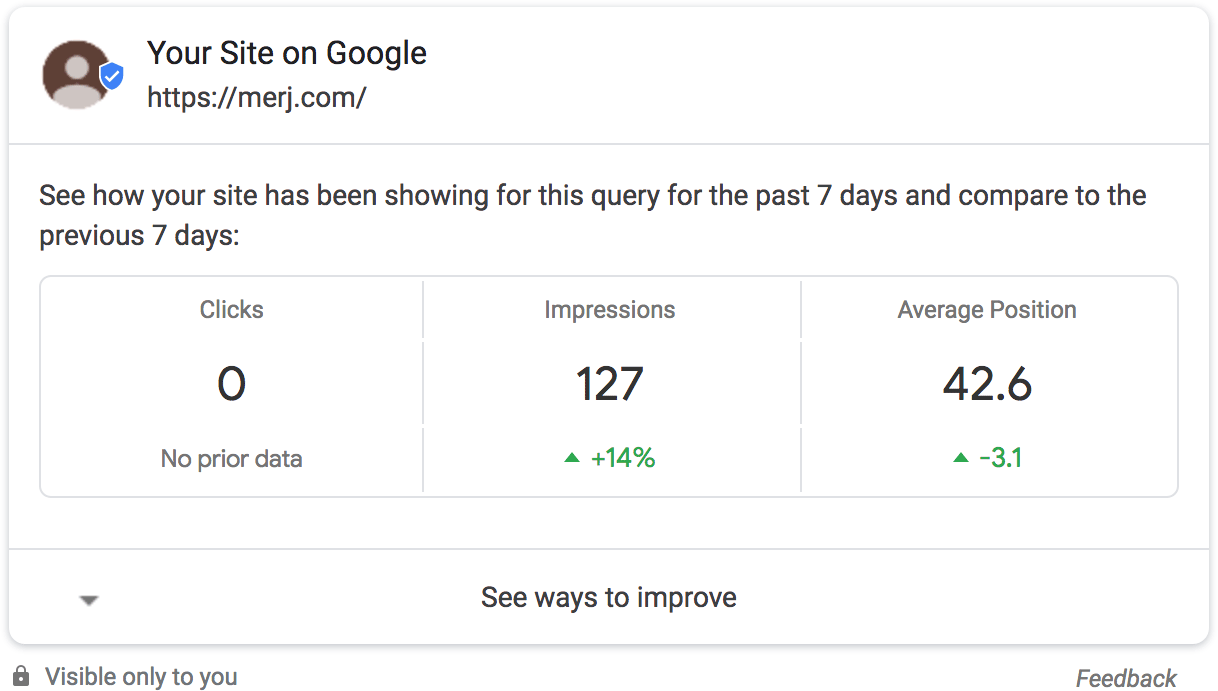 This only occurs if the search query data is available within a verified Google Search Console property.
Although many people are seeing this within the SERPs, the SERP function doesn't yet seem to be fully rolled out, and it's still unclear whether this is just a test.
It's likely that Google is attempting to get people to check the health of their sites more often, which would help both the owners of sites and Google itself.
Action Point
Monitor for the new reporting feature. Ensure that you regularly check your data within the Search Console.
Insights into Updates & Communication
For some time, Google has maintained that it updates its search algorithms daily. As it does not always communicate when it does so, confusion often arises within the SEO community when more substantial updates occur.
On 11 October, using the Google @SearchLiaison Twitter account, Danny Sullivan wrote about why Google communicates at certain times over others, how many updates generally occur, and what site owners can do about them.
The tweet thread, had some interesting takeaways and reminders:
Google issues updates daily.
Update confirmations occur when there is actionable information for site owners.
The search engine issues confirmation about broad changes to the core algorithm as there is never anything site owners can do to fix matters, and changes shouldn't be made unnecessarily.
If a site owner feels that their site is performing poorer after a core algorithm update, the best thing they can do is ensure to offer the best possible content to audiences.
For more information on content, take a look at the search quality rater guidelines. Remember that raters do not influence how well a site ranks.
Keep an eye on the Google Webmasters Twitter account for the latest information.
Action Point
Look through the thread for full details on how Google communicates its updates and remember to keep a clear mind and a steady hand if you suddenly find yourself underperforming after an update.
Google My Business Adds "Clear Attributes" Option
Google My Business now allows business owners to add and clear attributes to local business listings after a new feature was added on 15 October.
Writing on the Google My Business Help forum, Allyson Wright, a community manager, said:
"We've added an [sic] 'clear' option for attributes for your business. Rather than being forced to select 'yes' or 'no' for attributes offered by your business, the 'clear' option allows you to clear any value you previously provided for that attribute."
Action Point
To clear your attributes, you need to click the clear icon so that you are shown a list of attributes with values that are about to be cleared. Read through and uncheck the ones you don't want to delete. Click clear once you have done. The selected attributes will now be erased.
Branded Search Reporting Added to Google My Business
By logging into Google My Business Insights, business owners can now filter their analytics to show how many people find their business in local search and maps through branded pages.
This means that businesses can see and evaluate the percentage of people who find them through Google, whether through maps, local search, or through searching for brands, generic keywords, or just the company name.
By clicking on "insights" users will be able to see a pie chart showing three categories:
Green indicates direct discoveries through searches for the business name or address.
Blue represents customers that discovered the business from searching for a category, product, or service.
Yellow shows customers that found the business from searching for a brand related to the company.
Action Point
The new feature gives you the opportunity to see where your customers are discovering you in local search. Evaluate the data it provides so that you can understand how people are searching for you and work out areas that you can improve your local SEO strategy.
John Mueller Confirms JavaScript Development Future
Participating in a reddit thread, John Mueller said that there will be a lot of opportunity for technical SEOs to learn JavaScript in the future.
He said that there will be more JS development taking place over the next two years than there was over the entirety of the last two decades.
Having such a skillset could give ambitious SEOs a competitive edge over others, and Mueller said that, "Coding isn't something everyone likes to do, and there's enough around SEO which doesn't involve doing that, but if you're keen on JavaScript, there's a big opportunity here."
New Favicon Controller Introduced
Writing on Search Engine Roundtable, Barry Schwartz theorised that Google has introduced a new favicon web crawler.
Favicons are the little icons that show up in web browser bars next to the URLs, which are customisable by site owners.
The crawler was originally spotted by Valentin Pletzer on Twitter and stated that the new Googlebot user-agent is named:
Mozilla/5.0 (X11; Linux x86\_64) AppleWebKit/537.36 (KHTML, like Gecko) Chrome/49.0.2623.75 Safari/537.36 Google Favicon
Although the bot is not currently listed on Google's crawler info help document, it originates from the verified IP range 66.249.93.XXX.
It is thought that as Google has shown favicons in search results in the past for short periods of time, that this could be how Google indexes them.
Action Point
Perhaps this was just another Google test to put favicons in the search results. Nothing has been confirmed from Google yet, but it's always worth knowing which user agents Google uses to crawl the web. Check out its full list, here.
Notices Sent for Slow Loading Pages
Since mid-October Google Search Console has been sending out notices for slow loading page (beta). Writing on Twitter, Oliver Mason mentioned shows the message he received for a client profile: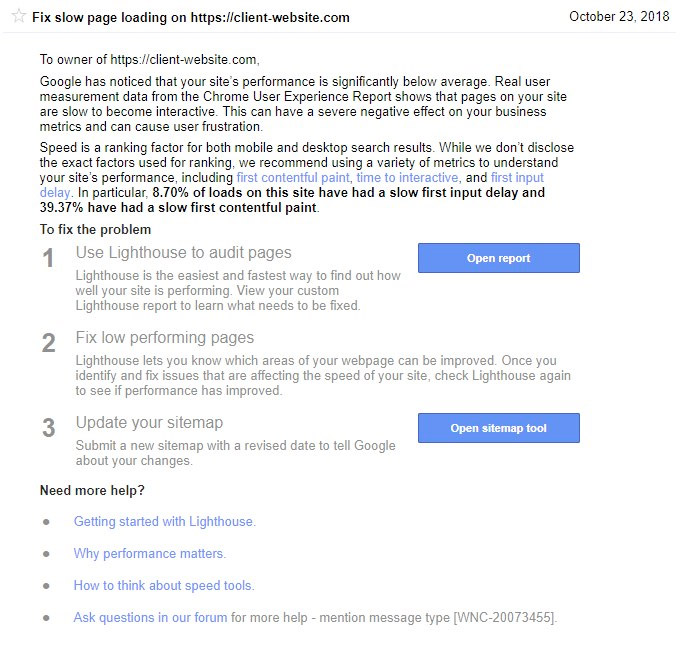 With speed becoming a ranking factor back in 2010, the new notice is particularly helpful as it references specific pages within a website, alongside possible fixes.
Action Point
Monitor for the new warning and remember that multiple speed data points are important for ranking, especially for mobile sites. If you receive a notice, it would be worth following Google's advice for speeding up a specific page.
New Design for Google Hotel Search Added
After months of testing, the search engine has finally released a brand-new design for hotel search results.
New grid and card interfaces can be seen on hotel cards, which are sorted by a user's search filter. From there, a person can filter further by zooming in or dragging the map around the screen.
Users are also able to change the date, price, and review ranges, as well as specifying the exact amenities that they need: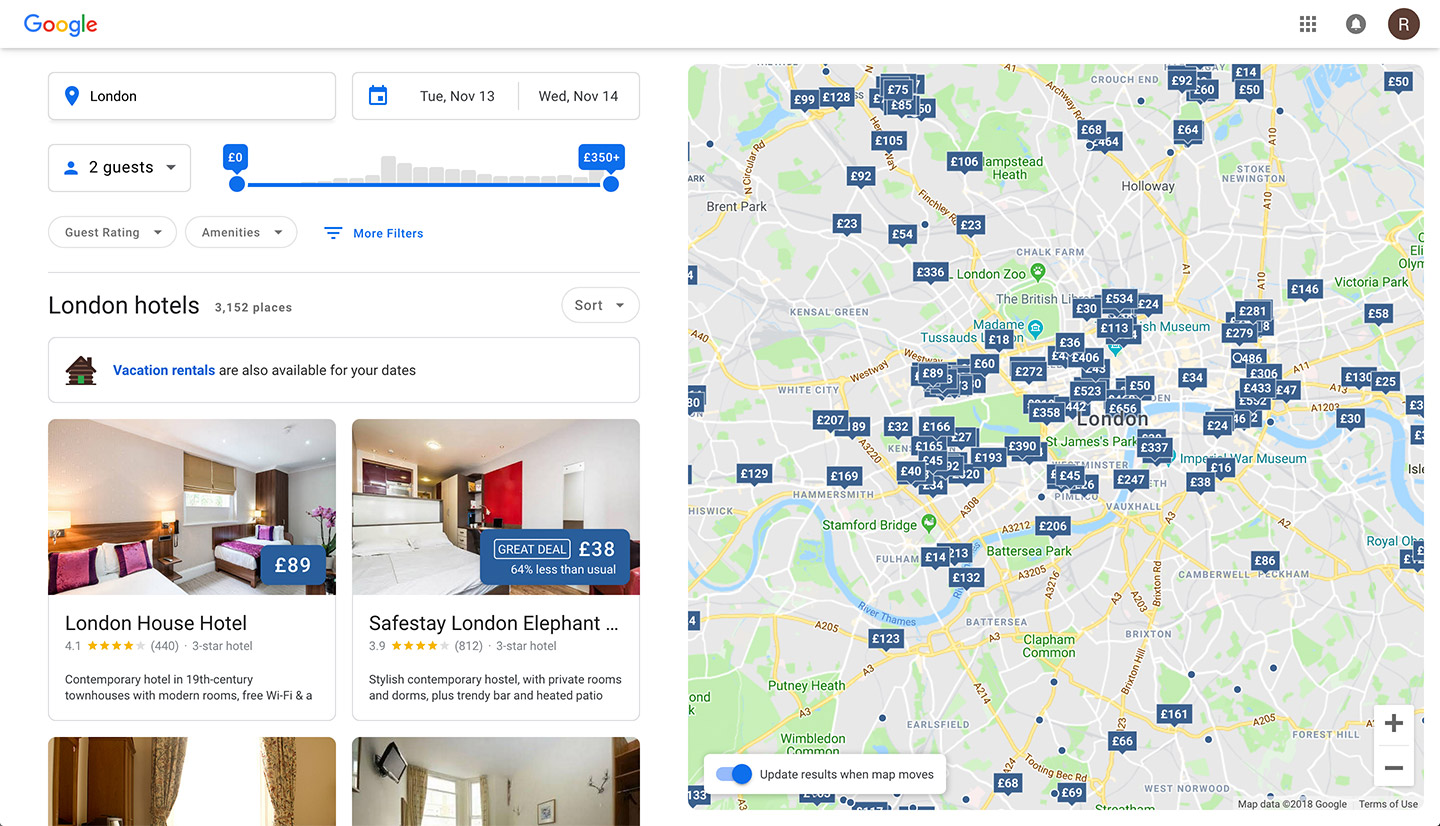 Google also announced a range of new features on its blog on the final day of October, including viewable photos from the hotel or fellow guests, neighbourhood information, and reviews from around the internet using keywords such as "hotel bar".
Action Point
Hotel providers need to consider whether the design change will impact bookings, so keep an eye on changes for both bookings and traffic and make the necessary tweaks to improve traffic from organic search.
Google Maps Adds Follow Buttons to Business Listings
In mid-October Google Maps added a "Follow" button to business listings, so that when clicked, updates will be sent from businesses to a user's "For You" tab. The new function means that businesses will have an entirely new way to engage with customers.
Furthermore, new businesses can have their company listed via a Google My Business profile as much as three months before they first open.
Action Point
Companies that want to list their business profiles in Google Maps before their launch date can do so via Google My Business.
Yandex News
Yandex Explains its Marks on Search Results
With the Internet expanding at an ever-increasing rate, on 2 October Yandex posted a blog explaining the special tags (or marks) that it appropriates to websites to help users find the most credible or useful sites for their search query:
Popular site – given if a site receives a large and regular amount of traffic.
Selection of users – appropriated if a site has "a high degree of involvement and loyalty of users" according to Yandex.
The navigation response – this is displayed if there is a high degree of certainty that the site meets the criteria required by the searcher.
The confirmed profile – shown when a specific page corresponds to the confirmed profile or organisation of a person in a social network.
Official site according to the Yandex. The directory received if the site is the official website of a state authority according to the Yandex. The directory.
Official dealer according to Avto.ru — received if the organisation has the status of an official dealer in the service of Avto.ru.
Organisation from the register of the Central Bank of the Russian Federation – received if entered in the State Register of Microfinance Organizations of the Central Bank of the Russian Federation or the Register of Insurance Companies.
Yandex Service A – received when an official Yandex service.
According to Yandex, symbols are assigned based on user behaviour data and sings with more than one mark may be displayed in the results as a snippet. In such an instance, an algorithm will determine whether a site will be displayed, alongside which specific label.
Action Point
Learn more about the marks within the Help section and find out what signs a site has in the Webmaster, here.
Updates for Turbo Pages Continue
Yandex is continuing to refine its Turbo pages for online stores and on 18 October offered an update on what it had been getting up to.
The first update it offered was the ability to connect with different forms of feedback, including with instant messengers, mail, chat rooms, and call and feedback buttons.
Another interesting update was the announcement that Turbo pages for eCommerce sites can now be debugged using the same tool as other Turbo pages.
Security has also been ramped up as YML can now be added with a password so that only Yandex has the ability to download it.
Action Point
As well as offering updates, the search engine also offers a series of tips for Turbo pages for eCommerce sites, including topics like how to delete Turbo pages for stores. You can find out how to do this and more, here.
New Diagnostic Recommendations Added
Near the end of October Yandex announced that it had added four new recommendations in Diagnostics, including:
Video Layout Error – robot could not index the videos tagged on the site.
Information about the organisation is not confirmed by the owner in Yandex. Reference – no status "Information about the organization is confirmed by the owner"
No chat with organisation – occurs when Yandex Search and or Alice have an opportunity to correspond in the chat with the operator of the site, and the feature has not been used.
Low turbo cover – alerts site owners that the platform has Turbo page capability, but a great many pages are not being covered by the technology.
Action Point
Check whether you have any of the four alerts in "Site Diagnostics". Yandex does not need to be notified once that the problems have been resolved.
Introducing Extended Snippets in Search
To provide more information to users, the search engine has updated the navigation response in Search so that content recommendations are now added from sites to the navigation response. This also means that additional content appears in regular snippets to help users understand what they could discover on a site. Yandex confirmed that it uses the same data sources for snippets, such as Turbo pages and Yandex News.
Action Point
Learn more about what this could mean for your site by understanding how to add and manage Snippets, here.
Additional reading
Take a look through a range of other news stories and interesting articles published throughout October: